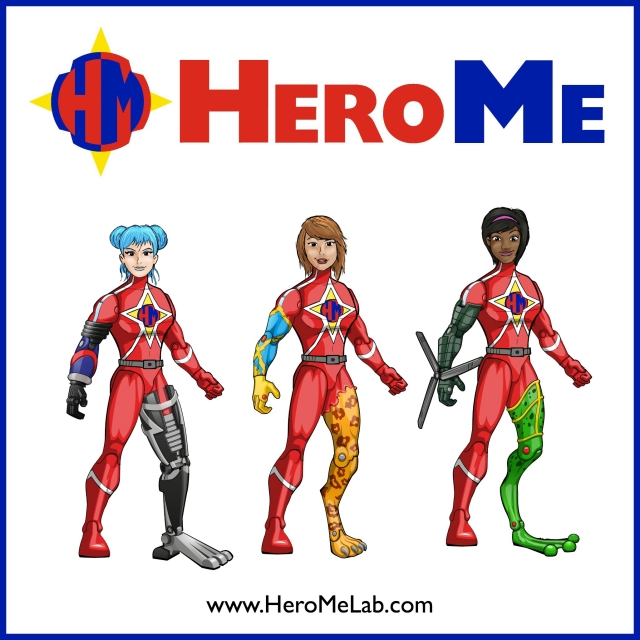 We are so excited to be launching our line of female HeroMes in 2016! Since we made our big announcement, we've received TONS of great feedback, answered lots of questions, and felt your enthusiasm for the idea. In an effort to answer as many questions as possible and keep you all informed about the process, we thought this list of FAQs might be helpful …
What is your new line? HeroMe is launching a line of customizable female action figures. Available in Spring/Summer 2016, we will offer five new female heads and a new female torso to fit with our existing line of superpower arms, legs, and accessories.
Will your female HeroMes be different than your boy HeroMes? No! You may have heard us reference HeroMe Girl during our funding period, but now that we are in production HeroMe Girl has simply become part of the HeroMe brand. In our minds, all the HeroMes - male or female - are on the same team, the HeroMe team. We won't be making distinctions between HeroMe boys and girls, and all of the figures will have access to the same superpower arms, legs, red uniform, and accessories. At HeroMe, we are about encouraging ALL kids to be creative - not distinguishing girls from boys or designing toys specifically for different genders.
Why didn't you start with a female option? We launched the company with our male HeroMes in November 2014 because we had a product we were proud of and we needed to start selling product in order to survive as a company. At the time of our launch, we didn't have female designs that we felt were empowering to any child - female or male. Over the past year, we've worked with lots of designers to create new looks and a torso that are a little bit different that the stereotypical female superhero. Take one look and you'll notice a lack of outrageous measurements, skin barring costumes, and overly made up looks. Instead, you'll see strong, confident, and happy female superheroes - the kinds of figures that are empowering and inspiring to all children regardless of their gender.
Will you ever offer more "looks" for your HeroMes? We hope so! Our ultimate goal is to provide as much choice as possible for kids when they are creating their HeroMe, and we're committed to growing and expanding with new parts and looks as funding becomes available.
Thank you for your interest in HeroMe and HeroMe Girl! Do you still have questions, comments, or concerns? Email us info@heromelab.com - it will come straight to our inbox and we promise to read it and answer right away.
For more information about HeroMe and the process of manufacturing our new female looks, check out some of these recent stories and news clips: